Regular price
excl VAT: $73.80 USD
Regular price
excl VAT:
Sale price
excl VAT: $73.80 USD
Unit price
per
Sale
Sold out
Breakthrough 100% Protein Quality
Proform 100 is the world's first protein to offer a revolutionary amino acid quality. Our new Proamino-C™ technology enhancement system delivers what no other protein can give you – a protein profile that matches both of nature's ultimate proteins - casein and egg. Proform 100 ,however, is tuned to score at a minimum of 100 in Amino Acid quality. For protein quality, anti-catabolic effect, protein retention, anti-ageing collagen formation, and fantastic high calcium content - you cannot do better than Proform 100.

Product Information

"Allergy Statement: Contains milk protein from milk. Contains phenylalanine.
Do not exceed the recommended daily dose. Food supplements should not be used as a substitute for a varied diet and should be used as part of a healthy lifestyle. Keep out of reach of children. Not intended for use as an infant formula.
Suitable for vegetarians.
If pregnant or breastfeeding seek
your doctor's advice before using
this product.
Made in Ireland from EU-source
dairy protein.
"

Key Benefits

"• High Protein
• Promamino-C Essential Amino Acid Mix
• High in Calcium
• Low in Fat
• Convenient Meal Replacement
• Guaranteed No Whey Protein
• Suitable For Vegetarians
"

Why Choose?

"Experience the difference that a true Super-Complete protein can make.
Traditional high-protein foods – even meat, soya, milk and whey – are unbalanced in Amino Acid Quality so that your body can waste a third or even half of the protein content they offer, the unused protein then being converted to sugar and contributing to making you fat. Nutritional science has identified egg as the best natural protein, and traditionally all others are measured against it. But egg lacks casein's anti-catabolic action, its slow-release properties, and its high Glutamine levels, all of which makes it especially good for muscle-building. Proform 100 brings you the best of both worlds in a delicious high-protein drink. Now for the first time, your whole body, as well as your muscles and bones, can benefit from a protein that equals both casein and egg in perfection.
This Proform 100 is flavoured with real raspberry pieces. No artificial flavours
Made in Ireland from EU- Source dairy protein.
"

Directions

"PROFORM 100 may be made thick with water, milk or cream, or easily blended in any kind of milk (low fat, skimmed, almond, soya or other) to make a delicious milkshake. For best results use an Educohealth Shaker Beaker or electric blender.

Full Serving: Mix 30g (1 level scoop) in 400-500ml water, milk or diluted cream.
Half Serving: Mix 15g (= scoop) in 200-250ml water, milk or diluted cream.

Calorie count approx. per full serving made on 400ml of:
water: 115kcal, whole milk: 360kcal, nonfat milk: 255kcal, soya milk: 260kcal, oat milk: 380kcal, cream (1:4 with water) 315kcal.

Protein: Each serving of PROFORM 100 made with water provides 28g protein and as directed with milk provides at least 40g of high-quality protein."

Nutritional Information

"Calcium Caseinate (g)
Proamino-C™ Essential Amino Acid Mix (g)
Pure Raspberry Pieces (Freeze Dried) (g)
"

Share
View full details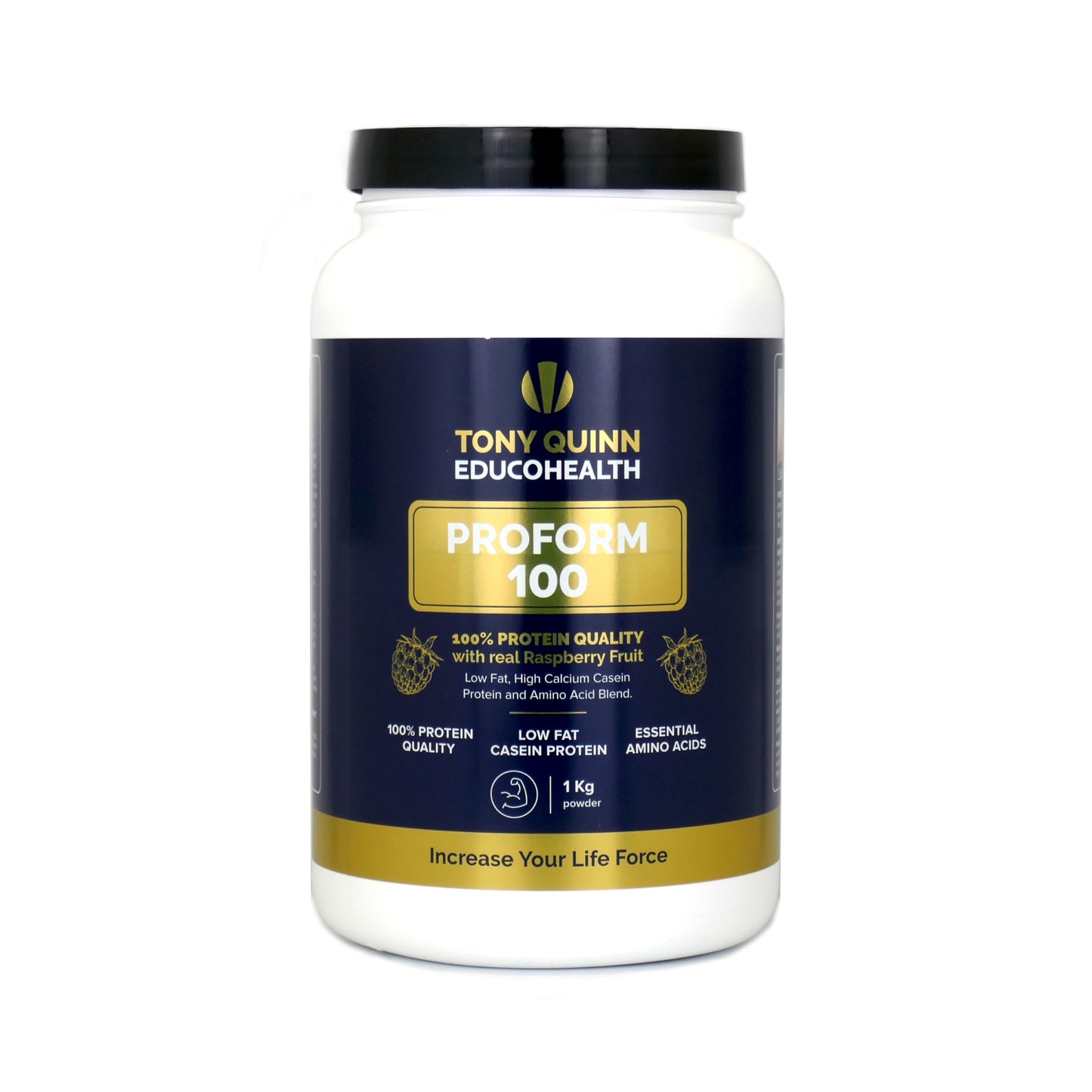 Image with text
Pair text with an image to focus on your chosen product, collection, or blog post. Add details on availability, style, or even provide a review.
Next Day Delivery

Order before 12 midday and get next day delivery

Hassle-Free Exchanges

Proud to say that our products are Made in Ireland
Review on Mind Focus by Assumpta Vaughan
Assumpta Vaughan

Approximately 6 years ago, I experienced periodic episodes of 'blanking' while driving. There were maybe 6 episodes in total.

On approach to a very familiar roundabout, I would suddenly go blank, and have no idea which exit to take. I would then take a random exit, and after about 1 minute, I would recognise where I was.

As there is a strong history of Alzheimer's/Dementia in our family, I was concerned. 

So I went on Mind Focus, 4 x daily.

Since being on Mind Focus (maybe 6 years now), I have not experienced a 'blanking' episode.

I also notice an improvement in my focus and concentration.

I am very grateful for this significant result. 

Brain Cell Support and Educohealth Food Supplement