Regular price
excl VAT: $65.64 USD

incl VAT: $78.77 USD
Regular price
excl VAT: incl VAT:
Sale price
excl VAT: $65.64 USD

incl VAT: $78.77 USD
Unit price
per
Sale
Sold out
Ultimate health support with the world's most advanced multi-nutrient formula
With so many today concerned with their health and wellbeing, people are turning to natural health supplements to help them operate at their best. Cell Rejuvenation Mix (CRM) provides a powerful foundation of health in all areas with 53 separate high-quality ingredients. It also contains nine nutrients to assist with the normal function of the immune system as well as the full spectrum of high-potency vitamins and minerals. CRM offers advanced plant and fruit extracts, and specialised nutrients on which much current nutritional research is focussed. In particular, CRM has Vitamin D in quantity large enough to accord with current recommendations. Some of these nutrients are hard to obtain in a regular multivitamin, often for reasons of cost. CRM offers them all in a single convenient daily dose
Product Information

"Keep out of reach of children. Do not exceed the recommended daily dose. Food supplements should not be used as a substitute for a varied diet and a healthy lifestyle. Not recommended during breastfeeding or pregnancy. If you are on anti-thrombotic medication please consult with a health care professional.
Manufactured in Ireland in a pharmaceutically approved facility."

Key Benefits

"• Immune Support
• Contains Vitamin D (2000 IU
• Antioxidant Protection (Detox)
• Anti-Ageing (Youthification)
• Reproductive Health
• Brain & nervous system
• Heart & bloodstream
• Collagen, Your Skin & Hair
• Multi-Vitamin & Mineral (plus micronutrients)
• Energy Production
"

Why Choose?

We go to great trouble and expense not just to get the formula right but to seek out the best companies with the best ingredients (often patented). While food supplements are often kept on shelves for years. Cell Rejuvenation Mix is made in batches twice or three times a year so your supplement will be at most a few weeks old when you buy it. This freshness is vitally important for such a complex product made of many delicate ingredients. The EU through its scientific committee has recently completed a study covering many of the ingredients in CRM. This investigation has validated and approved claims we have made for this product since its introduction in 2007. Cell Rejuvenation Mix is the most advanced product of its kind, and the most advanced and complex nutritional product ever manufactured in Ireland.

Directions

"The standard intake is 6 tablets per day to be divided over meals.
"

Nutritional Information

"PER (6 TABLETS)

Vitamin A (retinyl acetate) (2000 iu) 600 mg 75
Vitamin D3 (cholecalciferol) (2000 iu) 50 mg 1000
Vitamin E (D-α-tocopheryl acid succinate) 80 mg α-TE 667
Vitamin E (β,γ,δ tocopherols & tocotrienols) 6 mg α-TE 50
Vitamin K (menaquinone) (Vit. K2) 120 mg 160
Vitamin B1 (thiamine HCl) 30 mg 2727
Vitamin B2 (riboflavin) 30 mg 2143
Niacin (nicotinamide) (Vit. B3) 120 mg 750
Pantothenic acid (D-calcium pantothenate) 120 mg 2000
Vitamin B6 (pyridoxine HCl) 50 mg 3571
Folic Acid (pteroylmonoglutamic acid) 400 mg 200
Vitamin B12 (methylcobalamin) 25 mg 1000
Biotin (D-biotin) 3000 mg 6000
Vitamin C (L-ascorbic acid, acerola) 625 mg 781
Magnesium (oxide) 100 mg 27
Copper (cupric gluconate) 0.1 mg 10
Iodine (potassium iodide) 90 mg 60
Zinc (citrate) 25 mg 250
Manganese (citrate) 1 mg 50
Potassium (citrate) 35 mg 2
Selenium (sodium selenate) 200 mg 364
Chromium (picolinate) 400 mg 1000
Molybdenum (sodium molybdate Mb (VI)) 120 mg 240
Boron (sodium borate) 3 mg -
N-Acetyl-L-Cysteine (amino acid) 300 mg -
Milk Thistle (Silybum marianum) Extract 240 mg -
Coenzyme Q10 (Ubiquinone) 30 mg -
Resveratrol (Polygonum cuspidatum) 100 mg -
Quercetin (Sophora japonica) 80 mg -
Alpha Lipoic Acid 80 mg -
Broccoli Sprout (Brassica oleracea Italica) 320 mg -
Calcium D-Glucarate 160 mg -
Mixed Carotenoids (Dunaliella salina) 1.5 mg -
Lycopene (Solanum lycopersicum) 3 mg -
Luteolin (Arachis hypogaea) 10 mg -
Lutein from Marigold (Tagetes / Calendula) Extract 15 mg -
Bilberry (Vaccinium myrtillus) Fruit Extract 24 mg -
Hesperitin (Citrus aurantium) Extract 100 mg -
Citrus Bioflavonoids Complex 300 mg -
Grape (Vitis vinifera) Seed Extract 25 mg -
Pomegranate (Punica granatum) Extract 160 mg -
Mangosteen (Garcinia m.) (Xanthones) Extract 40 mg -
Olive (Olea europaea) Leaf (Oleuropein) Extract 12 mg -
Acerola (Malpighia glabra) Fruit 100 mg -
Bromelain (Ananas comosus) 2400 GDU/g Extract 100 mg -
Green Tea (Camellia sinensis) Extract 80 mg -
Ginseng (Panax ginseng) Extract 25 mg -
L-Taurine (amino acid) 160 mg -
L-Choline Bitartrate (lipotropic factor) 230 mg -
Inositol (lipotropic factor) 120 mg -
Para-Aminobenzoic Acid (PABA) 60 mg -
Trimethylglycine 100 mg -
Spirulina (Arthrospira platensis / maxima) 100 mg -
Bee Pollen Powder 100 mg -"

Share
View full details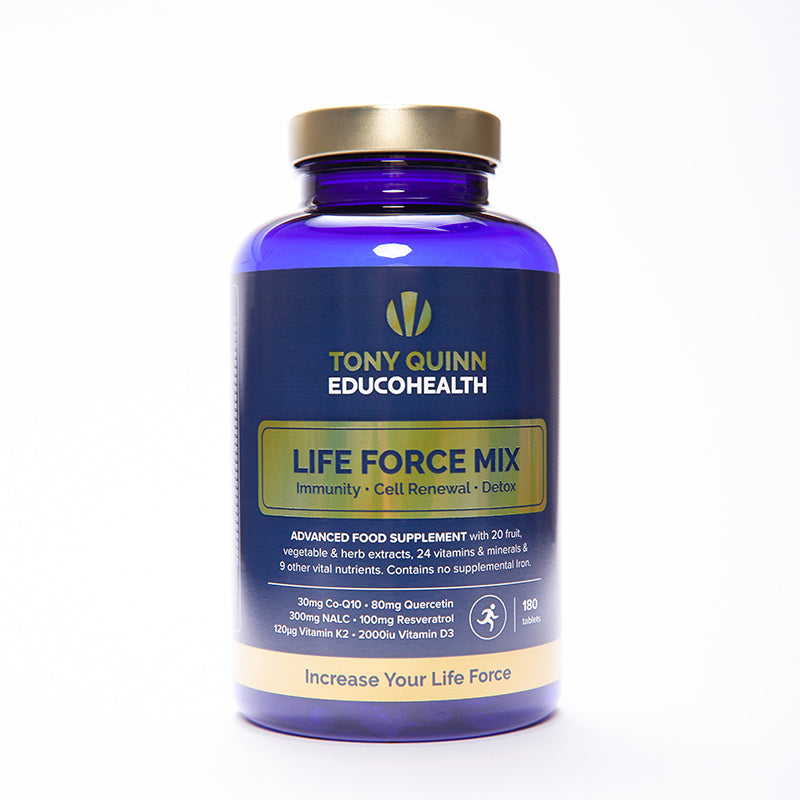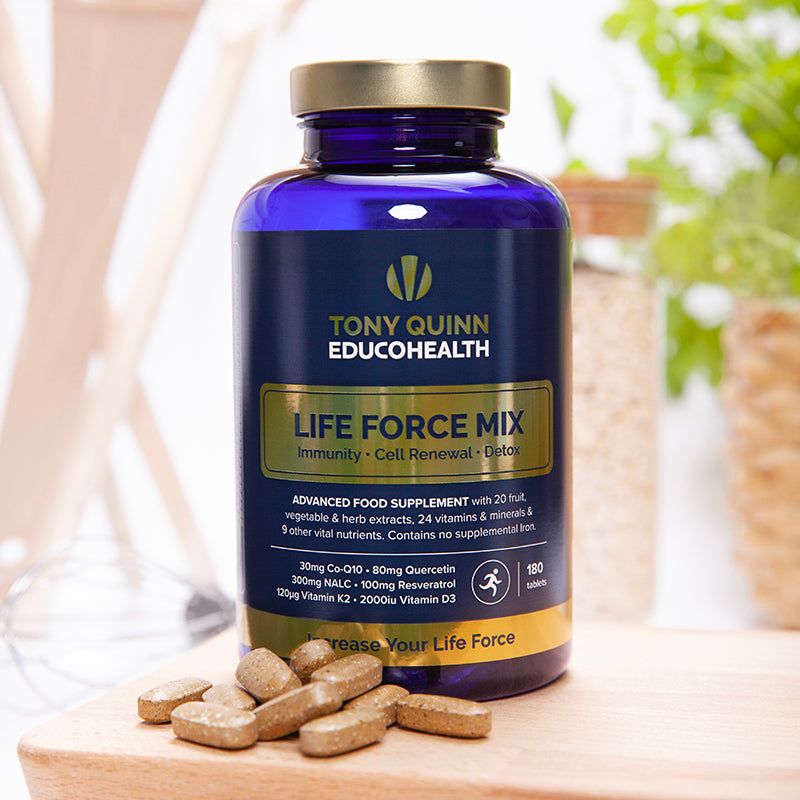 Image with text
Pair text with an image to focus on your chosen product, collection, or blog post. Add details on availability, style, or even provide a review.
Next Day Delivery

Order before 12 midday and get next day delivery

Hassle-Free Exchanges

Proud to say that our products are Made in Ireland
Review on Mind Focus by Assumpta Vaughan
Assumpta Vaughan

Approximately 6 years ago, I experienced periodic episodes of 'blanking' while driving. There were maybe 6 episodes in total.

On approach to a very familiar roundabout, I would suddenly go blank, and have no idea which exit to take. I would then take a random exit, and after about 1 minute, I would recognise where I was.

As there is a strong history of Alzheimer's/Dementia in our family, I was concerned. 

So I went on Mind Focus, 4 x daily.

Since being on Mind Focus (maybe 6 years now), I have not experienced a 'blanking' episode.

I also notice an improvement in my focus and concentration.

I am very grateful for this significant result. 

Brain Cell Support and Educohealth Food Supplement